Chapter of the Year Award
Submissions Open: Aug 20, 2019
Submissions Close: Sep 5, 2019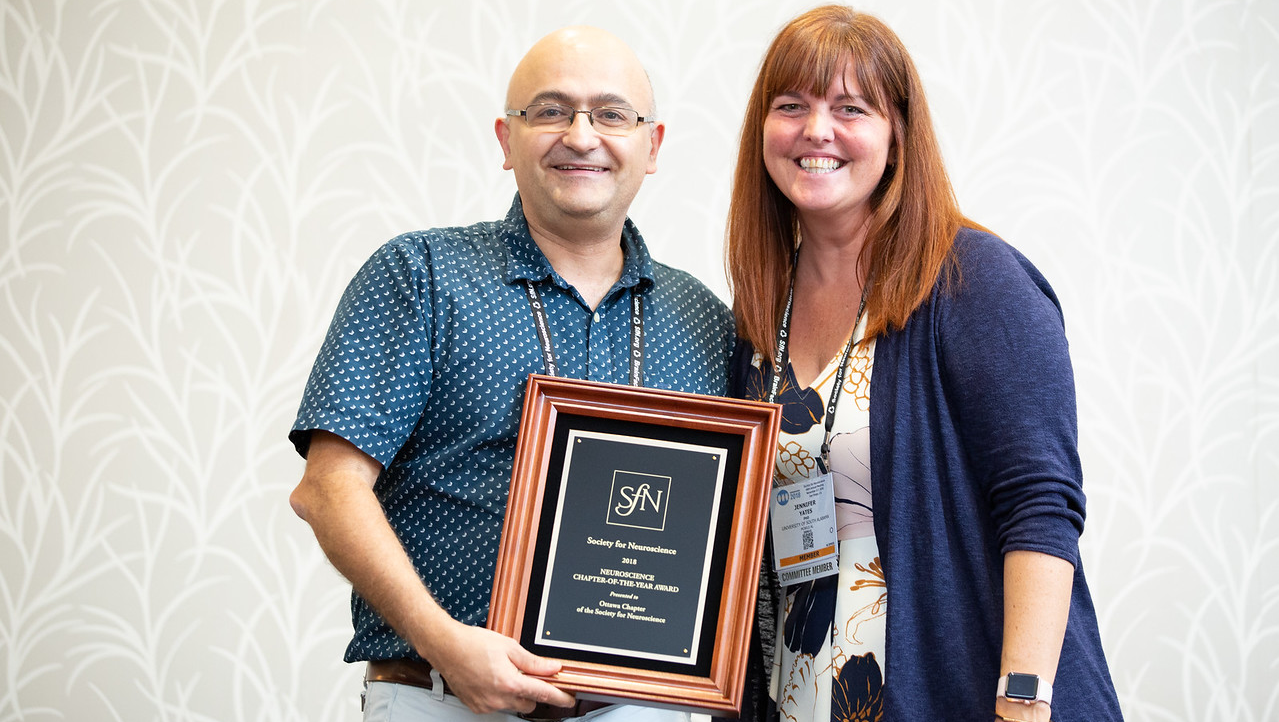 Jennifer Yates, PhD, of the University of South Alabama, presents the Chapter of the Year Award to Alfonso Abizaid, PhD, of Carleton University and President of Ottawa Chapter of SfN.
The Chapter of the Year (COY) Award recognizes outstanding chapters for their efforts and accomplishments across a broad range of activities that are in line with the mission and strategic initiatives of SfN.
Recipients receive a $1,000 grant to support chapter goals/programs. Awards are presented during the Chapters Workshop at the SfN annual meeting.
You must submit a completed chapter annual report through the online submission portal and include an essay detailing your chapter's qualifications for the COY Award. Essay instructions are included in the chapter annual report.
The COY Award application is now open and will close on September 5, 2019, at 5 p.m. EDT.
Eligibility
For award consideration, chapters must meet reporting requirements, including:
Submit an annual chapter report.
Submit an SfN Chapter grant final report, if applicable.
Additionally, a representative from the chapter leadership must be present at the Chapter's Workshop to accept the award.
Selection Criteria
Awards are judged based on a two-step review and evaluation process using chapter annual reports. Annual reports must meet basic reporting requirements to be considered. Qualifying reports are then sent to the Global Membership Committee for final judging.
Evidence the chapter has implemented an innovative idea that includes the public, media, or political representatives in its outreach programs
Extent to which chapter outreach includes providing neuroscience resources for K-12 education
Extent and effectiveness of the chapter's methods for communicating with its members and to the general public (use of websites, Facebook, chapter newsletters, etc.)
Degree to which the chapter promotes involvement with the local community outside of SfN members
Demonstration of commitment to engagement in neuroscience advocacy issues
Evidence of effective partnering across multiple institutions in implementing chapter activities
Diversity of chapter members and of participants in chapter activities
Demonstration of innovative programs and activities that can serve as models for other SfN chapters
Past Recipients
2017: Louisville
2016: Front Range
2015: Galveston
2014: Ohio Miami Valley
2013: Greater New York City
2012: Lethbridge, Canada
2011: Lehigh Valley
2010: Chicago
2009: Western North Carolina