Graduate School Fair
Prospective students, advisers and neuroscience graduate program representatives have the opportunity to connect, learn, and engage.
The annual Graduate School Fair provides an opportunity for prospective students and their advisers to meet with representatives from neuroscience graduate programs.
More than 100 programs from around the globe gather to recruit the best and brightest students for their graduate programs.
Exhibitors can talk with prospective trainees about their interests and needs as well as network with their peers from other programs.
Students can explore graduate programs from across the country and around the world while meeting current trainees, faculty, and other prospective students.
2020 Graduate School Fair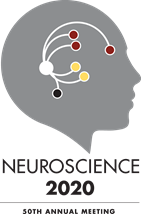 Virtual Graduate School Fair
Neuroscience 2020 has been cancelled. Learn more.
SfN will be holding two virtual Graduate School Fairs: one in mid-Fall 2020 and one in early-Winter 2021. These events will give students the opportunity to explore a wide range of neuroscience programs, while exhibiting institutions have the opportunity recruit students from around the globe.
Exhibitor registration prices will be $350 for Institutional Program (IP) members and $500 for non-members. This includes an exhibitor space at both the Fall and Winter Fairs. Attendee registration will be free.
More details will be added here as they become available. Please contact training@sfn.org with any questions.
Past Graduate School Fairs
Download the list of institutions that participated in previous years' Graduate School Fairs.