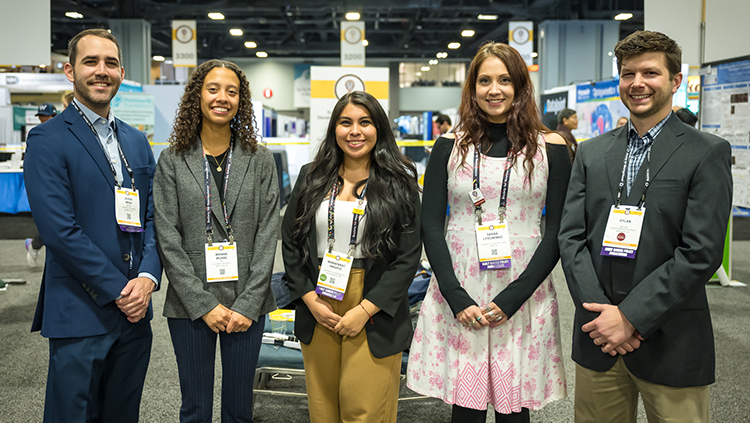 Early Career Policy Ambassadors
Our ECPA Program is a 10-month program that allows early career scientists to interact with leading neuroscience advocates and meet their policymakers.
About the Program
The ECPA program is designed to create an extensive network of neuroscience advocates. Ambassadors gain the necessary skills to advocate for science and to encourage those in their personal networks to join the conversation.
The program kicks off at our annual Capitol Hill Day, where ambassadors engage with their members of Congress about the value of strong national investment in scientific research, including NIH and NSF. Over the course of the year, ambassadors engage in at least two additional advocacy-related activities at their home institution.
View the webinar recording of current and past ECPAs discussing their experiences in the program.
Applications now open!
Applications for the 2024 ECPA program will close January 3, 2024.
---
If you have any questions, please reach out to advocacy@sfn.org.
Early Career Ambassador Program Activities
Ambassadors take a variety of actions during the program. Ambassador activities include:
Interacting with Congress: Ambassadors have held meetings with their elected officials, lab tours, town hall events, and brain fairs and symposia.
Communicating with Colleagues: Ambassadors have given presentations to other scientists about science policy and advocacy. Ambassadors have also shared their experiences advocating for science at SfN's Capitol Hill Day and elsewhere, and they have offered advice to help others get involved.
Engaging in Public Outreach: Many ambassadors have engaged in outreach activities. Ambassadors have also creatively used social media, petition drives, and brain awareness events to get the word out.
The eligibility requirements for the ECPA program are as follows:
You must be a member in good standing.
You must be either:

A graduate student, or within 10 years of having received your Master's, PhD, or MD;
An undergraduate or post-baccalaureate currently performing neuroscience research in a lab.

Undergraduate and post-baccalaureate applicants will have to upload a letter of recommendation from their advisor or Principal Investigator.

Previous participants in the following SfN programs are not eligible for consideration:

Early Career Policy Ambassadors, Early Career Policy Fellows, or Young Advocates.

Hill Day: Ambassadors attend SfN's Hill Day training and 16th annual Capitol Hill Day. Participation in associated training and Hill Day is mandatory.
Advocacy Activities: As part of their year-long ambassadorship, participants will engage in at least three of the events listed. These activities will tie directly into our federal research advocacy efforts:

Policymaker Engagement: On a monthly basis, Ambassadors will be asked to engage in brief, targeted actions directed at policymakers (phone calls, social media, letter-writing, etc.) providing opportunities for coordinated advocacy. Ambassadors will receive notice of these requests for engagement from our staff via email.
Projects: As part of their application to the program, ambassadors will propose to conduct two other projects in their home districts, such as:

Keeping their colleagues informed on advocacy matters through a blog or newsletter.
Hosting an advocacy event or series of events (such as discussion groups, seminars, happy hours).
Meeting with their legislators.
Submitting a Theme J poster on advocacy activities to the SfN Annual Meeting.

Local Chapter Participation: Ambassadors are encouraged to partner with their local chapter or home department to support advocacy efforts at those institutions.
Interviews: With assistance and support from our staff, applicants will also make themselves available, as appropriate, for interviews and/or author articles to be shared on Neuronline, SfN.org, and other media platforms for the Society.

Annual Meeting: If Ambassadors attend the annual meeting, they will be asked to attend an advocacy networking event and present a poster about their advocacy activities. Ambassadors will either present their accepted Theme J poster or provide a poster specifically for the reception.
2023 Early Career Policy Ambassadors
Jackie Giovanniello, PhD, University of California, Los Angeles
Rachel Hostetler, West Virginia University
Hilary Marusak, PhD, Wayne State University School of Medicine
Taissa Lytchenko, University of Nevada, Reno
Briana McRae, Columbia University
Javier R. Mesa, University of Florida
Monserrat Orozco, University of New Mexico
Dylan V. Scarton, MS, George Mason University
Katelyn Stebbins, Virginia Tech Carilion School of Medicine and Translation Biology, Medicine, and Health Graduate Program
Lauren Wagner, University of California, Los Angeles