Trainee Professional Development Award
Submissions Open: May 7, 2018
Submissions Close: Jun 8, 2018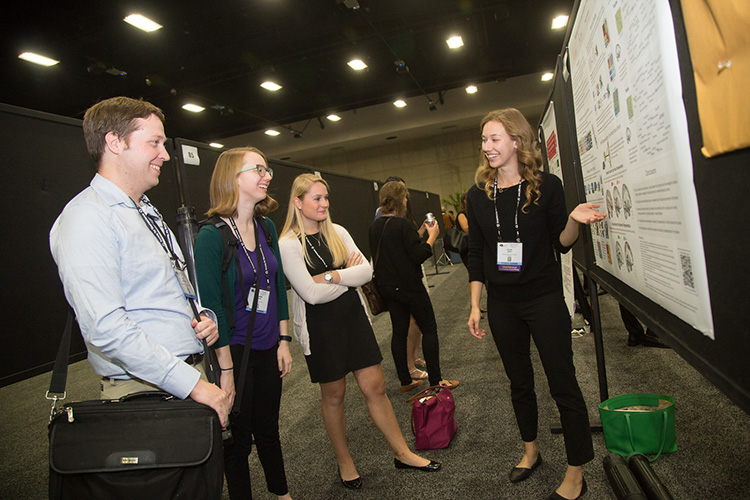 A Trainee Professional Development Award winner presenting her research at Neuroscience 2016.
The Trainee Professional Development Award (TPDA) recognizes undergraduate and graduate students and postdoctoral fellows demonstrating scientific merit and excellence in research with the chance to present an abstract at a poster session, meet peers and network with senior scientists, and participate in learning opportunities at the annual meeting.
The aim of these awards is to promote the advancement of career training to neuroscientists from a wide range of institutions. SfN seeks to promote gender equality and increase diversity, in all of its forms, throughout its programs. Awards are distributed based on the merit of the trainee's application.
Recipients of the Trainee Professional Development Award will receive complimentary registration to attend the annual meeting. An award in the amount of $1,000 will be given to recipients based at institutions within North America. Recipients based at international institutions will receive an award in the amount of $2,000.
Application
You may nominate yourself for a Trainee Professional Development Award by submitting the following application components via the online application portal.
Copy of the applicant's abstract submission confirmation form for the upcoming SfN annual meeting including both the control/tracking number and the complete abstract.
Applicant's CV, including education, honors/awards, and publications (abstracts and manuscripts).
Short essay (no more than 500 words) on how attendance at the annual meeting will impact your career goals (for undergraduates, or why you chose the path of neuroscience). Additionally, the essay should speak to a personal experience that has had a broader impact on your career in science. Examples of topics could include:

A woman scientist who has inspired the applicant
The importance of local advocacy and outreach efforts in neuroscience
The importance of conducting rigorous science

One-page letter of recommendation from the applicant's mentor, advisor, chapter representative or program/department chair.
Applications that are missing one or more of the application components will not be considered. Applications with materials not requested will not be reviewed.
Should you have any questions or concerns, please contact awards@sfn.org. Applicants should not contact selection committee members for inquiries.
Eligibility
Applicant is the first author of an abstract to be presented at the annual meeting with an abstract that is of the highest scientific merit.
Applicant must be a member of SfN.
Currently enrolled as an undergraduate, graduate, or completing postdoctoral fellowship, or have completed one of these programs in the same year the award is given.
Nominee is not a recipient of this or another SfN travel award in the same or previous year.
Awardees are required to attend at least two professional development workshops at the annual meeting, and to complete a post event survey (to be provided digitally).
Current and Recent Financial Supporters
SfN sincerely appreciates support from the following contributors of $1,000 or more:
Nancy Rutledge Zahniser Fund
Society for Neuroscience
Trainee Professional Development Awards Selection Committee
Members
Michael J Friedlander, PhD


Virginia Tech

12/31/2020
Jeffrey D Blaustein, PhD


University of Massachusetts Amherst

12/31/2020
Barbara J Morley, PhD


Boys Town Natl Res Hosp

12/31/2019
Roberto A Prado-Alcala, PhD


Instituto de Neurobiología-UNAM

12/31/2020
Brian A McMillen, PhD


East Carolina University

12/31/2019
Gary S Aston-Jones, PhD


Rutgers University

12/31/2019
Beth Ferguson Wee, PhD


Tulane Univ

12/31/2020
Stuart A Tobet, PhD, BS, MS


Colorado State University

12/31/2020
Mark M Rasenick, PhD


University of Illinois at Chicago College of Medicine

12/31/2019
Iris Lindberg, PhD


University of Maryland Department of Anatomy and Neurobiology

12/31/2019
David R Weaver, BS, PhD


UMass Medical School

12/31/2019
Anthony E Kincaid, PhD


Creighton University

12/31/2019
Peter R Patrylo, PhD


SIUC School of Medicine

12/31/2019
Bonnie L Firestein, PhD


Rutgers Univ

12/31/2019
Marise B Parent, PhD


Georgia State Univ

12/31/2020
Erik D Herzog, PhD


Washington University In St. Louis

12/31/2019
Qiang Gu, PhD


FDA National Center for Toxicological Research

12/31/2019
Osvaldo D Uchitel, MD


IFIBYNE UBA CONICET

12/31/2020
Matthew B Dalva


Thomas Jefferson University

12/31/2020
Diego Restrepo, PhD


University of Colorado Anschutz Medical Campus

12/31/2019
James R Fadel, PhD


University of South Carolina School of Medicine

12/31/2019
Coleen M Atkins, PhD


University of Miami Miller School of Medicine

12/31/2019
Elizabeth A Buffalo, PhD


University of Washington

12/31/2020
Michael M Francis, PhD


University of Massachusetts Medical School

12/31/2020
Alfonso Abizaid, PhD


Carleton Univ

12/31/2019
Tuan D Tran, PhD


East Carolina University

12/31/2020
David T Blake, PhD


Medical Coll Georgia/Augusta University

12/31/2019
Yishi Jin, PhD


University of California, San Diego

12/31/2019
Geoffrey M Boynton, PhD


Univ Washington

12/31/2020
Susana Martinez-Conde, PhD


State University of New York Downstate Medical Center

12/31/2019
Yehuda Ben-Shahar, PhD


Washington Univ

12/31/2020
Hugo Merchant, PhD


Inst. de Neurobiologia UNAM

12/31/2019
Jafri Malin Abdullah, PhD, MD


P3Neuro,Universiti Sains Malaysia

12/31/2020
John G Howland, PhD


Univ Saskatchewan

12/31/2020
Anita A. Disney, PhD


Duke University

12/31/2020
Sandeep Robert Datta, MD, PhD


Harvard Medical School

12/31/2020
Michael S. Smotherman, PhD


Texas A&M University

12/31/2019
Valeriya Gritsenko, PhD, BS


West Virginia University

12/31/2020
Elizabeth A. D. Hammock, PhD


Florida State University

12/31/2020
Jason S. Meyer, PhD


IUPUI

12/31/2020
Gulgun Sengul, MD


Ege University Sch Med

12/31/2020
Paul Meyer, PhD


University At Buffalo

12/31/2019
Kristofer K. Rau, PhD

12/31/2019
Benjamin Adam Samuels, PhD


Rutgers University

12/31/2019
Mingshan Xue, PhD


Baylor College of Medicine

12/31/2020
Nana V. Voitenko, PhD


Bogomoletz Institute of Physiology

12/31/2020
Debra A Bangasser, PhD


Temple University

12/31/2020
Jonathan Brouillette, PhD

12/31/2019
Armen Saghatelyan, PhD


Universite Laval

12/31/2019
Thomas Fath, PhD


Macquarie University

12/31/2020
Salvatore Oddo


Banner Sun Health Research Institute

12/31/2020
Douglas S. Portman, PhD


University of Rochester

12/31/2020
Matthew J Paul, PhD


University at Buffalo, SUNY

12/31/2020
Thomas F Franke, MD, PhD

12/31/2020
Jonathan L. Brigman, PhD

12/31/2019
Ranier Gutierrez, PhD


CINVESTAV - IPN

12/31/2020
Joseph Christopher Holt, PhD

12/31/2020
Kathleen A. Dave, PhD


St. Luke's University Health Network

12/31/2019
Long-Jun Wu, PhD


Mayo Clinic

12/31/2020
Gonzalo E Aranda-Abreu, PhD


Universidad Veracruzana/Centro De Investigaciones Cerebrales.

12/31/2019
Tanea T Reed, PhD


Eastern Kentucky University

12/31/2019
Polycarp Umunna Nwoha, MS, PhD


Obafemi Awolowo University

12/31/2019
Regina L Faulkner, PhD


The Scripps Research Institute

12/31/2020
Elizabeth L Stegemoller, PhD


Iowa State University

12/31/2020
Alexandre dos Santos-Rodrigues

12/31/2019
Damian S. Shin, PhD,MS


Albany Medical College

12/31/2020
Felipe Villela Gomes, PhD


University of Pittsburgh

12/31/2020
Eun Young Kim, DPhil

12/31/2019
Jessica Connelly

12/31/2020
Larriva-Sahd, Jorge


Instituto de Neurobiologia UNAM

12/31/2020
Diego Armando Ordóñez, MD


Universidad Nacional De Colombia

12/31/2019
Aaron James Camp, PhD

12/31/2019
Heiman Chow, PhD


Division of Life Sci., The Hong Kong University of Science and Technology

12/31/2019
Xinnan Wang, PhD

12/31/2020
Edward Bilsky

12/31/2019
Susanne Brummelte, PhD


Wayne State University

12/31/2020